Don't get me wrong. There are plenty of great free patterns that are available to us on the web. A lot of these patterns have mistakes in them. When you buy a pattern, you don't purchase just the pattern, you are purchasing the fact that all the mistakes have been edited out. I know, I know I will admit that there are definitely times when you and I have both scratched our heads and began wondering what the pattern editors were smoking when they ok'ed a pattern. But I will stand by my belief that you get what you pay for...Case in point the
Fuzzyfeet Slippers
. I am not the only one who has had problems with this pattern, check this blog
here
,but more importantly
here
...
I had my sister try on her slippers and we both got a wonderful laugh out of it. They fit her fine but the looked like little green flippers and they are so wide that when she walked in them they started falling off her feet. It was so sad. So, as I have been complaining too much about this pattern I bought a new slipper pattern today. This is from Fiber Trends (# AC-15)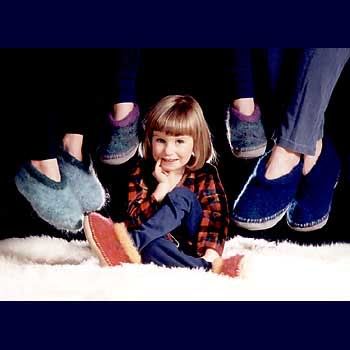 I hope that these turn out okay. I am thinking that with my left overs I will make Matthew some.
Alison, I know that you wanted a free jester hat pattern but I thought that
this
could help...
Anyways, I am off to go make pies for Thanksgiving tomorrow. I am leaving you with 10 things I am thankful for as I am not going to be posting tomorrow.
1) My family
2) My ability to love
3) My job
4) That I live in a Democracy
5) Knitting
6) My friends
7) Intelligence
8) My adoring fans( okay they are my cats and my dog)
9) Being able to create
10) Knowing that if I have a dream of doing something I can achieve it.