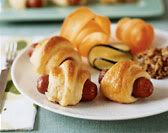 Today was National Pigs in a Blanket Day and of course, that is what we had for dinner. I devoured mine.. Yummmmm! Amy on the other hand, had eaten too much bean dip earlier and hers are still waiting to be eaten. I have a couple extra for Matt to eat tomorrow when he comes over. I am hoping that they will re-heat decently. If not, I don't think that he will notice.. he is 3 afterall!
I remembered that Needler's Nest is having a sale this Sunday on yarn and i will be there when the doors open!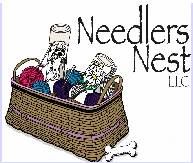 I mis-estimeated one of my paychecks and have a little extra spending cash this weekend! I think that I will be taking my sister with me. I don't know how much she will enjoy it, but I am slowly getting her into better yarn... she is mostly making dog toys but is sprinkling a few good baby items in there.... In time, In time.... i must have patience!
I finished up my Debby Ware hat, but don't have anything to put on the top of it and Amy says that it looks like a Pagoda... I just need a baby head to try it on...
Happy Knitting