So, I think that it is needless to say that becuase I am a slight shopaholic that this spills out into my yarn purchases. (okay if I need to say it I will... I have built up quite a stash...sometimes quite embarassingly large...when will I ever knit this stuff? Maybe that is why I have issues with finishing projects...See the point below....)
Last night I went to a cookie exchange... I got some yummy and delightful cookies and recipes! I got the chance to wind my hanks into balls and life is good. I have a pattern set up for my Infinity and for my purple beyond. All is well in my world.
I come home to sit and start working on my Charlotte's Lace Shawl, I got to move a book off the couch (Weekend Knitting) and I start to browse through it... And then I see it. A pattern I have looked at so many times before. And yet, this time... I have to knit it. It needs to be knit. I glance over at my stash bulging out of it's containers. I see some yarn that I started knitting with and didn't like how it was turning out. But somehow and someway it calls to me to knit the little the camisole... And so I cast on...
Here is the pattern that I am knitting...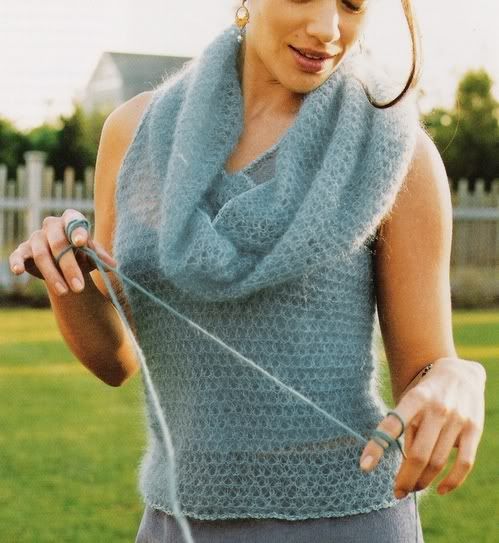 and this is the yarn that I am using...

It is Le Fibre Nobili Imperiale. I swatched and it turned out rather nicely. The pattern calls for Rowan Kidsilk Haze. But this is working rather well. I don't think I am going to do the cowl becuase I just probably won't wear it and I won't have enough yarn to knit it. Just the sweater. I was thinking though that I could get a couple more balls of that in two darker colors and let it slightly darken. So, I think I see a trend starting in our SNB group now...
Alison
found some yarn that is one giant skein and it knits up a whole sweater...Way cool.
So, what have I learned today? I am fickle to my knitting. I can sway easily and often. I have decided though, that today I will not be ashamed to knit what I want when I want and that I will be in no hurry to finish a project. (unless a friend guilts me into it....you will be a great mother one day!)
Happy knitting.