We had dinner over at Martha's last night. That girl can make chicken like nobody else I know.. It is always moist and yummy. *I wish my porkchops were like that... (Amy tells me not to cook them anymore...because they are always so darn dry....I mean I really do try and can cook almost everything else but can't cook chops. So if anyone has pointers please let me know)
I digress... We were lounging around in her living room when she said " I almost forgot, Jeremy (her boyfriend) wanted me to give these to you guys". I opened up a little wrapped square gift and to my wonderful suprise I got this lovely present from him...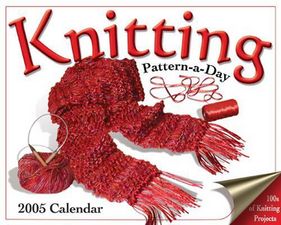 Does this guy know me or what? Martha did help him out a little bit, but he told her he wanted to get me something for knitting... LOVE IT!!!! I didn't even plan on getting him a present so I am heading out to the yarn store tomorrow and getting some yarn to make him a knit cap. He works construction and early mornings so this will be used.
I have been knitting my fingers off trying to get some knitting done for work. I told my boss that I would have to have everything to her by Monday. I just don't have the motivation/effort to do it after work. I want to relax and not be on speed knitting time.
I have decided to organize all of my yarn this weekend. I have an over abundance of yarn and yet it is nothing I can just go and knit with. Go figure on that one. I need to have it some sort of organization but everything else I have tried just doesn't seem to work. I think if I pull all the yarn out that has a pattern to go with it and organize that by interest in doing it and then organize all the other stuff by weight it will be easier. I am also going to organize the UFO stash and get that in order of how long it has been sitting there and how long it will take me to finish.
I was thinking that maybe at an upcoming SNB meeting we should have a yarn swap. Everyone should bring decent and knittable yarn that still has the label and swap from there. Rather than have it sitting in a bag, it can get people to mingle with each other. I mean we really do more bitching than stitching anyways. It might as well be profitable bitching right?
Well off to eat dinner. I know it is late... but Amy gets off at 9 and we stay up til about midnight.
Happy Knitting..