So, I get out of making dinner tonight! Yay! A few friends convinced Amy that we need to go out and have drinks. Another friend called and asked if we wanted to meet her up at George and Dragon's so Amy gave in. This is totally fine by me. I love to cook but will snatch up any chance that I don't have to cook.
We saw Ocean's 12 today.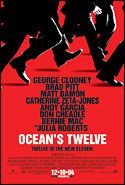 Very good movie. I really liked the first one and this one lives up to the hype. We made it in right in time for the last few movie trailers.
Something that I am really excited about seeing in the future is this.

I absolutely love love love Willie Wonka and the Chocolate Factory. I used to have this horrible crush on Gene Wilder after seeing that movie. I don't know if it was because it was him or all that candy... The new name of the remake is called
Charlie and the Chocolate Factory
. Johnny Depp is a good actor. I really started to like him after I saw Sleepy Hollow. Don't ask...
Oh, I went to the Fiber Factory today. I picked up some size 9 needles for Martha, some size 7 circular needles (which don't get me my gauge), some yarn for Jeremy's hat and 4 skeins to start my Hourglass sweater. This is the yarn that I am going to use.

It is Berroco softwist. I did my swatches and it turned out nice. Very drapey and soft. I just have to start on the sweater. So I guess I am going to join the Hourglass knitalong...
WEll off to get ready for dinner. Happy Knitting.