I have decided I am not going to keep promises. At least about blogging. I had a horribly long day yesterday and couldn't get myself onto the computer to type. I was just too lazy!
I finished the ice cream cozy. But it looks a little weird on one side. I am going to present it the other way. It is also filled with 20 bucks worth of Baskin Robbins coupons. I hope my sis likes it. I will have a picture of it later.
I am adding a knitted gift to my Christmas list. I don't think that it really counts as not being finished because: a) I decided to do it last night and b) it will take me all of 20 minutes to do it.
My friend Lindsay (the one I am going to do the sweater for) loves foo foo girly things. So, I decided to make her a couple of knitted flower pins. I was in Bookstar last night and I decided to buy the
knit.1
magazine. I am going to knit these flower pins. Super duper easy!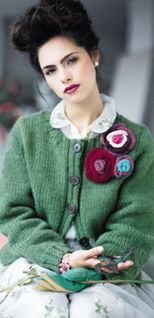 So seeing how close the holiday is I figured that I would make a list of the random things I have to get done before Christmas
wrap all presents
make 2 pecan pies
Finish 12 ornaments (just the bows though)
Wrap 12 ornaments
Clean house for Christmas day (Amy's family is coming over)
Make 10 cards for a Christmas present (it is just pasting the stuff down now
Felt Pat's slippers ( just found out her shoe size)
I guess when I write it all down it really isn't all that much to do. It just feels like it. I have another long day ahead of me. I only work to 5:45 but I am staying late to do a friends hair for her Christmas present. She has really tight kinky hair and she wants me to flat iron it for her so she can have straight hair for the family picks. So that will be about 3 hours of work on that!
Happy Knitting to all of you..