Martha and I are headed over to Fiber Factory. I need to do a return and she wants to buy more yarn. I think it is so fascinating to watch other people get yarn for new projects. Especially those who don't have a yarn stash, or at least those who don't have a huge one like me.
I put a shout out to get some people on the westside to come and knit with me tonight but I don't know if it is going to happen. Amy has band practice tonight and I don't want to be sitting there so I jus might go and hang out by myself anyways. My niece may come with me and do her homework.
I am contemplating buying this book: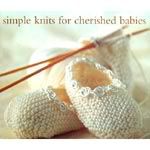 I have checked it out from the library a few times and I like the patterns in the book. Very quick and simple to work on. If I do buy it, it won't be for a few weeks. I have a few other main things to buy first.
We'll see. I have a few rows done on my summer purse. It is made of fluffy goodness. I don't think that everyone will like the way the colors are turning out but I do and that is all that matters right? I am trying to figure out what purse handles I want to add on there. Hmm...
I will write more later if I can
Happy Knitting.