I finished my necklace today. I couldn't find the wire I wanted to use on it again, as realized that I was also out of wire... so I picked up some stuff that was a lot harder to work with than I thought. But here it is... It it's beautiful glory...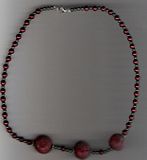 Click on the picture to see it bigger...
Thank you
Illana
for posting such a beautiful picture and thank you to
Melissa
who was an inspiration for this necklace... Your work is beautiful and your dog is soo cute too!
I am off to try to make beaded stitch markers and then clean house.. Don't you love priorities?