Okay seeing how I only have like twos of most yarns I am going to make a few bags. I am not going to give them a recipient right now. I just want to get my stash down. While I don't have the exact yarn I do have some similar yarns... Here is what I have up...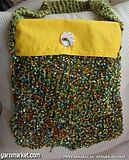 Going to be knit with Melody yarn from Southwest Trading Company
I think that I may use this as a regular purse
I don't think I am going to use the skull motif but rather use up all my left over wool bits from my Christmas slippers I made.
I am going to use up a double strand of something.
I have more pictures and patterns saved but I want to get those done first. I have still yet to complete a second project so I can buy my Rowan Denim yarn. Maybe I will have a sock done by this weekend... Or at least by Tuesday as that is my weekend ending. :)
Happy Knitting.