I got my first test knitting project yesterday. It is a sweater made from Calypso yarn. Unfortunately, there isn't a picture of the yarn, but it is like a ribbon/railroad yarn. I thought that it would be a pain to work with but it is coming along nicely. I have about 1/2 of the back of the sweater done. I had to go down a size on my needles, I guess I am a loose knitter. I never thought I would say that!
Anyways, I am not going to our SNB meet up tonight. I don't want to infect all the others with the dang cold. I feel a lot better today. I just know, though, that I will be hanging on to the cough for a couple of weeks.
What are the things to tell?
I finished the 5 hour baby sweater. It takes more than 5 hours but, it looks really cute. Sent it out before I could get a picture taken. D'oh.
I got some yarn for Amber's baby's sweater. I am going to knit the Baby's First Tattoo Sweater from the SNB Nation book.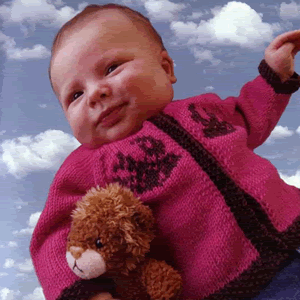 I am going to work the stars and it is going to be done in black and red. That way if it is a boy or a girl it will still be really cute.
That's just about all I gotta say today. Have fun knitting tonight my SNB pals.
Happy Knitting.