I had lunch with Martha today. She was quite depressed today so we went to lunch to try to cheer each other up. I wasn't feeling so great myself so it didn't work out so well. I was driving home and I remembered that I wanted to check out the this little shop at Seventh street and Missouri called Family Arts Needlework shop. I had heard that they had some knitting supplies in there so I went in and ending up finding two lovely yarns there.
The first one was Classic Elite Bravo yarn called Hawaaian Sun. It is a silk and mohair blend. I picked up two skeins. Very yummy and of course the scanner doesn't give the colors justice.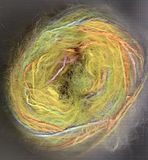 The second one I came across I thought I could work in with the other one somehow, I just don't know how yet. But it is called Fantasi and made by a company called Marks and Kattens. It is a blend of wool, acrylic and Polyester. The name of the color? Party!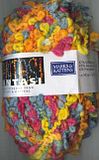 Yellow is not normally a color I would buy but with my total bill being 16.00 I had to grab them all! I figured that I could make my spring purse out of this. I haven't started on anything else lately so we'll see.
Happy Knitting my friends.