I don't have a title for this post. It is 12:00 at night and I should be sleeping but I wanted to get this posted.
The back of the Calypso is done. It looks really cool. Kind of bunchy at the top as the neck stitches are on a holder but I think it turned out rather nice. I also finished the increases of the sleeve on the Calypso. I am only 3 inches away from my decreases so that is exciting.
But I wanted to show off the pictures of what i have been doing...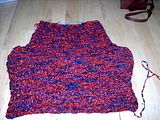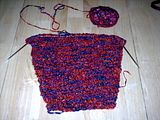 I will write more when I am not so sleepy. Happy Knitting my friends.