I am heavily working on clapotis. I am a few rows short of getting to the dropping part... I know I know what the heck am I doing sitting here typing on the computer when I am that close right?????????????
Truth is... I am exhausted. I went over and did a friends hair tonight...actually, it was hers, her husbands and the two boys hair...after working all day... I am poooped and I want to be able to throughly enjoy what I am going to do!
Maggiel, my chihuahua, has been clinging to me like nobody's business lately, so her and I are meeting my brother in law tomorrow and I get to watch my nephew while he does
ninjitsu practice
.
If you happen to really look through the site.... he is so not that crazy about it... he keeps telling me that I should do it but I keep telling him nah.... Matt (my nephew) loves it cause daddy is a ninja and that is cool....
I picked up a copy of this book the other day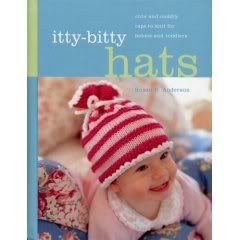 I have a ton of people in my life that are getting ready to pop out kids and I want something easy to do...
Well that is about it for today... Happy Knitting :)