So, what happens when you clean up your yarn? You find some roving that you had tucked away! I found some lovely brown and white roving that I had set aside for when I got better at spinning. I am going to spin this up and send it to my secret pal as she is quite fond of brown shades.
Today, I have no real plans and I love it. I am off to the grocery store, we haven't done real grocery shopping in two weeks. So, we will see how much junk I come home with. I am then off to Bookman's to take a few more books that we have laying around and are just filling up space. I am not sure how much we will get for them but we can get them out of here. After that, whatever Bookman's won't take I am heading to the goodwill and dropping those and more junk off. It is a great spring cleaning day.
I was waiting for Amy to get out of class today and think I decided what to make with a wonderful skein of yarn that my secret pal had sent to me. This is the colorway that she sent to me. As always, the picture doesn't do the colors justice but you get the idea.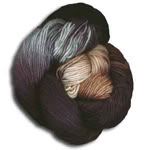 I have been itching to do some cable work and was thinking about doing a thin cabled scarf. I have a book of cable patterns that I will get the pattern from. Or maybe I can find one off the net.
I was also reminded that at Christmas time last year I had said that this Christmas everyone was going to get Christmas stockings. I am not sure if want to do that this year. Although, they would be a fast knit. hmmmm.. we will see.
Oh, Finished stuff to report. I finished up my soysilk purse yesterday. My sister, great loving person that she is, helped me sew the lining. I then machined sewed it in, I am not too crazy about the way it looks but it doesn't look bad so I think I will leave it. I also have some dpn holders that I knit and felted that just need to be adorned. Those are going to my SP, too. I can't wait to send them out. I think that I should have it all ready to send out by the end of the week.
I am off to run errands. Happy Knitting.